Pros Advice
A helping hand
---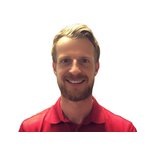 ---
If you've not been fitted before, you might not know what to expect. We'll be chatting to you informally through the fitting session so that you can ask and tell us anything that's going through your head, but let's take a little look at what else you can look forward to…
Regardless of whether you're a high-handicapper or low-handicapper, we're all looking to improve...

Neil Tappin | Foremost TV
As Mr Tappin says in the video, custom fittings are for players of all abilities. You don't need to hit it like a Tour pro to reap the rewards. In fact, if you're not the most confident or experienced player then you might find you gain even more from the process.
It is useful for the fitter to see some of the poor shots that you're hitting.
If you've left your A game at home, that's absolutely fine – there's no pressure to hit great shots. Between our expertise and the brilliant equipment on hand, we can help combat whatever misses you're struggling with. As nice as it is to hit it flush in front of your fitter, that's not always the case on the course.
If you are going through the process of investing in new golf equipment, do it properly.
When you buy new clubs, you want to see an improvement. That's something you will undoubtedly take away from a fitting. We can tailor a club to you and the watch as the shots you hit -and the way you feel when hitting them – improve. There's no greater sight for us than you smiling as you hit your new clubs.